Enjoy an evening of light music with an interval supper from Camberley and District Silver Band.
Coming in February, Camberley and District Silver Band presents an evening of light entertainment music with food included in our Supper Concert. Enjoy a wide variety of popular music, from the classics we all know and love, to arrangements of modern popular music – and some cracking solos!
Our supper concerts offer a unique twist on your evening entertainment – we extend our interval and provide a light supper and hot and cold drinks as part of your ticket price. So come along and enjoy some fantastic music and a delicious supper with a chance to get to know members of the band!
The concert will be held at Crowthorne Methodist Church and starts at 7.00pm. Tickets are priced at £12 per person, or £10 for concessions. Please note – due to catering requirements no tickets will be available on the door, so be sure to book in advance!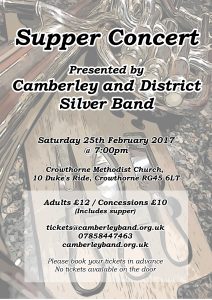 Get your tickets!
You can buy your tickets online using the website below:
Alternatively, please call our box office on 07858447463 or send an e-mail to tickets@camberleyband.org.uk.
Please note, that purchasing tickets online incurs a £1 per ticket booking fee. Should you wish to avoid this charge, please call or e-mail us.
Venue
Crowthorne Methodist Church, 10 Duke's Ride, Crowthorne, RG45 6LT
Map for directions: