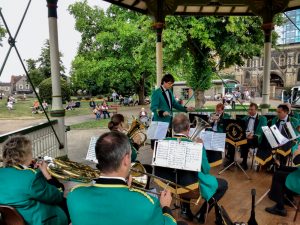 Camberley and District Silver Band is a fun and family-friendly brass band based in Frimley Green, near Camberley just on the edge of Berkshire.
The band has been running since 1960 and focuses on making great music and having a lot of fun while we're doing it! If you're looking for somewhere you can come and spend a couple of hours on a Friday night playing some cracking tunes and relaxing in a friendly atmosphere then you have found the right place.
Members of the band include several generations of families, with everyone from grandparents to seasoned players, right through to those just starting out their musical journeys. We aim to perform in a couple of large concerts each year, including one where we frequently collaborate with local choirs for a joint performance which always goes down very well. We also play around Berkshire and the local area's bandstands through the summer, enjoying some great music with very grateful audiences on sunny summer afternoons. In the slightly cooler weather of winter we take our traditional Christmas carols around the local shopping centres, rasing money for band funds and charities in Berkshire and the surrounding counties.
If you're interested in joining our cornet section, at any ability level, then please do get in touch using our contact details. We welcome everyone from seasoned professionals to absolute beginners, and provide a training band, music and instruments to those who are just starting out. To find our rehearsal venue, visit our Membership pages. If you would like to come along for a rehearsal to see what we get up to, please just drop us a line.
If you're not sure which instrument is right for you, come along and have a go! We have plenty for you to try.
We look forward to welcoming you to Camberley and District Silver Band!