This document is available as an exact export from its original format. Click here to download the PDF.
Most of this text was copied from the original format. Please report any inaccuracies to hello@camberleyband.org.uk and we will happily correct.
Foreword
When the band celebrated its 25th anniversary in 1985 and I was writing an article for the celebratory book, little did I realise that 25 years later I would still be with the band and writing the foreword for its 50th anniversary book as musical director. There is something about banding that gets under your skin and once you are hooked you never give it up.
A lot has happened to the band since its 25th anniversary celebrations. We have been fortunate to have the sponsorship from Charles Church Homes during most of that period even after the tragic untimely death of Charles Church. Susannah Church has continued to take a keen interest in the band and its welfare and the band were asked to play at both of her daughters' weddings. We have also been invited to play at Charles jnr's birthday clay pigeon shoot this year and so the link continues.
In addition to the sponsorship the band has been very fortunate to secure substantial funding from the National Lottery and also a grant from the Foundation for the Sports and Arts. As a result the band is not only one of the best equipped 4th section bands in the country but is probably one of the best equipped of any bands. Many championship bands do not have the extensive percussion equipment that we have.
We are also very fortunate to have excellent rehearsal facilities with plenty of room and storage facilities. In 1989 we moved to our current location and it is certainly the best location that the band has had in its 50 year history. Some bands only just have enough room to sit down in their rehearsal room, so we are very lucky to have the space that we do.
However equipment and facilities count for nothing without the true heartbeat of the band – its members. It is our members that make the band special and what it is today. Guests who play with the band frequently comment upon the friendly nature of the band and what a nice atmosphere there is. It is our members that make the band fun and enjoyable and long may it continue.
Although I haven't been with the band for its full fifty years, there have been many highlights for me during my time with the band including amongst others three successful trips to Bieitigheim in Germany (one of which featured the infamous "pizza" incident – more about this later in the book), the day courses involving some of the best brass musicians in the country, contest successes at Watford, Reading, Folkestone and the Farncombe quartets, a trip to the National Finals and my personal favourite playing at the Whit Friday march contests in the Saddleworth area this year. The list goes on.
Who knows what the next fifty years will bring? I can only comment on my own personal experience, but the last 31 years with the band have been fun and I am looking forward to the band's next fifty years and if these are only half as good they will be well worth looking forward to.
Robert Cherry
How it all began
29th September 1960
Dear Mr Hughes,
This is to let you know that a little meeting was held tonight, attended by Jennifer, Mr Soane, Brian Hills, George Clarke, David and myself.
All of us expressed relief… happier for having done so. We are all, however, missing that 'blow', which, for varying periods of years we have all enjoyed, and all of us here tonight would be so happy and grateful if you would meet us for a chat about this.
Next Monday evening, at 8 o'clock seemed the most convenient night for all present, but of course, if this isn't suitable to you, we'll fix another evening soon. I will call at the Bank on Saturday morning and perhaps Jennifer could let me know, and I do hope you won't feel this is too short notice.
The six of us here tonight all feel sorry that the meeting wasn't a bigger one but what it lacked in numbers, I feel sure you know it made up for in sincerity.
We all send you our regards and would like to express our most grateful thanks for all the enjoyment we have all had under your leadership.
My wife's and my own personal regards to Rona.
Hoping to see you soon.
Yours sincerely
Frank Poston.
TIME LINE FOR START OF THE BAND
Sept 29th 1960
Meeting held at 34 Park Road, Sandhurst. Present: Messr: F. Poston, G. Clarke, W. Soane, D. Poston, B. Hill and Miss J. Smith. The Object was to form a musical group which would rehearse at members' homes. It was proposed that Mr G. Hughes be asked to be the conductor.
October 20th 1960
Meeting held at above with Mr G. Hughes who agreed to conduct them. Some members already had instruments, and it was decided to write to the trustees of Fleet Band to try and purchase further instruments. Mr G. Clarke and Mr B Hills agreed to make enquiries regarding halls in Camberley which might be suitable for rehearsals.
October 27th 1960
Messrs G. Clarke and B. Hills outlined their findings and St Mary's Hall, Frimley Road, Camberley was deemed the most suitable financially etc. It was agreed to book the hall for one hour every Friday evening.
November 4th 1960
Rehearsal at St Mary's
Present D. Poston, (Cornet) W. Soane (Horn) G Clarke (Bass) B. Hill (Trombone) F. Poston (Euphonium) B. Thorne (?) K. Pearce (Cornet) Jennifer Smith (Horn), a member was unable to attend.
The group opened with a rather 'disturbing' performance of 'Abide with me' (Eventide) – but a few minutes of quick tuning dispelled all fears!
After three rehearsals, in which time the membership grew to 11 players, G. Hughes decided that an official band could be formed; an informal meeting was held at Mr F. Poston's home; Mr G Clarke was elected treasurer, Mr B Hill was elected secretary. It was decided to approach the Camberley Council about the naming of the band 'Camberley and District Silver Band'. It was agreed that a membership fee of 1/- (adults) 6d (juniors) be paid weekly.
The trustees of Fleet Band (Disbanded) kindly donated instruments to the band and a few determined members and collectors set out on a Xmas Carol programme.
Taken from Mr Hughes' scrapbook
1960s
1960
4th November – First rehearsal
1961
CWE Wood wrote to band offering arrangements free of charge to band
July – Records music for Radio Luxembourg make your own disc competition
September – Won 3rd section at Southern Counties competition playing Garland of classics and Love Divine
1962
April – 3rd place in fourth section at Seymour Hall
October – National Finals – 4th Section at Hammersmith Town Hall-prize won
1963
October – 1st and 3rd in Southern Counties competition
1964
June – Band member saved a child from drowning in a pond at a fete
1965
June – 1st prize in second section, 3rd prize in first section at Hove Contest
September – Played at Michael and Jennifer Cherry's wedding
November – First prize in Reading contest
1966
March – Film of band shown at Elmhurst
1967
December – Concert with Camberley Choral Society
1968
Won championship section of quartet competition
Film entered into the London Amateur Film festival and received highly commended. The film was called Four Bars Before Figure Seven
Instruments sent away to be changed to low pitch so band practice became choir practice
1969
March – Win fourth section to qualify for National Finals and promotion to third section
Quartet entered into the Quartet Championship of Great Britain against bands such as Grimethorpe, Faireys and Wingates
Lt Col C H Jaeger becomes patron of the band
Fourth in National Finals
Gerallt Hughes  –  Musical Director from 1960  –  2003
Born on 29th November 1917 Gerallt is the youngest of a family of six siblings. His father was a notable tenor and sang in the local choir that won the top prize at the National Eisteddfod. Evan, the eldest brother, was principal horn with the Ystalyfera Town Band and William (another brother) played euphonium. Gerallt was given a cornet at the age of ten, and as far as we know was told to come back when he could get at note out of it. This he achieved remarkably quickly because in the space of four years he took up the principals chair in the band. At the age of fourteen it is reported in a newspaper that he beat all comers in an open competition with his cornet. The final sentence of the adjudication reads; truly a master cornet player. As the town band began to win competitions he came to the notice of Radio Wales and he performed for them on many occasions.
After he left school he was offered a position with a famous band and he left for London where he was paid a retainer by the band, He became one of the principal players of the Callender Cable Works band. In 1940 Gerallt received his call up papers and found himself stationed in Africa for the duration of the war. He soon found himself playing trumpet in a band and this group played together throughout their time in the war. It appears that The Aolians were a class act to the extent they were sponsored by the Military in Alexandria in Northern Egypt.
After the war with no job or band prospects Gerallt decided that he would like to try teaching and went to Bamber Bridge College near Preston. Following graduation he pursued a very successful career as a teacher in Surrey and Hampshire. In Windlesham C P school the headmaster said – you're a Welshman start a choir. This he did with amazing results. They were entered in some of the local music festivals and beat everyone including some of the grammar schools in Guildford and Farnham. They were also selected to perform at the Christmas Day radio broadcast by Wilfred Pickles.
Due to his talent as a cornet/trumpet player he was asked to take over the reins at Sandhurst Silver Band. This was very successful and a number of competitions were won under his baton. On one occasion he played his cornet and conducted the band at an open air contest in the middle of a field and they won every prize! Best conductor, best cornet solo and best band.
A difference of opinion in 1959 eventually lead to his leaving the band and to the formation of the Camberley Band and to one of the most successful periods of his musical career.
The rest they say is history.
Michael Cherry
Meet The Band
Musical Director: Robert Cherry
Principal Cornet: Ruth Adams
Solo Cornet: Brian Osborne; Bob Pitts; Rachel Godden
Soprano: Catharine Baxter
Repiano: Timothy Jackson
2nd Cornet: Louise Ashbery; Ken Cranstone
3rd Cornet: Andrew Hawkins; Philip Bolland
Flugel Horn: Bethanie Johnson
Solo Horn: Libby Godden; Karen Pitts
1st Horn: Jennifer Cherry
2nd Horn: Michael Cherry
Euphonium: John Roberts; Louise Walter; Ray Fell; Nicholas Godden
1st Baritone: Richard Moss
2nd Baritone: Robert Godden
Solo Trombone: Alan Johnson; David Bell; David Pitts
2nd Trombone: Jenny Thorn; Scott Strazdala
Bass Trombone: Maurice Moore
E flat Bass: Bryan Walker
BB flat Bass: Ian Evans; Les Thorn
Percussion: Elaine Fell; Becki Bartlett; Owen Lloyd
Musical Director  –  Robert Cherry
Joined the band in November 1979
How long have you been playing your instrument?
Did you start on your current instrument?
Percussion – 31 years
Deputy Conductor – April 1992 – July 2003
Musical Director – August 2003 to date
Do you play any other instruments?
Piano
Comb and Paper
What is your favourite piece of music?
Journey into Freedom – Eric Ball
Score to ET – John Williams
Which is your favourite brass band?
Black Dyke – Their performances of Philip Wilby's "Revelations" and "Vienna Nights" at the British Open contests in 1995 and 2006 are the two greatest brass band performances I have ever had the pleasure to experience
Who is your musical inspiration?
My Grandfather
What piece of music would you like the band to play?
Resurgam – a truly wonderful and moving piece of music
Who are your favourite composers?
Alan Menken, Andrew Lloyd Webber, John Williams, Rimsky Korsakov, Pyotor Ilyich Tchaikovsky.
The Front Row
Principal Cornet – Ruth Adams
Joined the band in 1981
How long have you been playing your instrument?
Did you start on your current instrument?
Cornet – 1981 – Principal cornet since 1987/1988
Tenor Horn prior to cornet
Always wanted to play trombone
Do you play any other instruments?
Piano – started learning when I was 6
Clarinet – learnt for a year before moving onto brass
Violin – learnt for a year before moving to clarinet
All recorders
Flute – self taught
What is your favourite piece of music?
Paganini Variations – Phillip Wilby
Phantom of the Opera – Andrew Lloydd Webber
Conquest of paradise – Vangellis
Which is your favourite brass band?
Black Dyke – I have had the opportunity to play in a massed band with them after attending their Brass Band course in 1996. Their sound is the best that I have ever heard.
Who is your musical inspiration?
My Grandad. He taught me to play the cornet and was a school teacher – I remember him bringing home the bass recorder from his school so that I could have a go. I was always amazed at how many people would come and speak to him about when he had taught them. This could be thirty plus years after he had taught them.
What piece of music would you like the band to play?
Magic Flute Overture – I can remember playing this on 2nd cornet and loved it. Conquest of Paradise by Vangelis
Who are your favourite composers?
Andrew Lloydd Webber, Mozart, Einaudi, Vangelis, Rogers and Hammerstein, Bach.
Solo cornet – Brian Osborne
Joined the band in September 1969
How long have you been playing your instrument?
Did you start on your current instrument?
41 years
What is your favourite piece of music?
Closing Time by Leonard Cohen
Which is your favourite brass band?
Black Dyke
Who is your musical inspiration?
Mr Hughes
What piece of music would you like the band to play?
Entry of the Huntress by Delibes
Who are your favourite composers?
Holst and Dvorak plus quite a few others
Solo Cornet – Bob Pitts
Joined the band in October 2009
How long have you been playing your instrument?
Did you start on your current instrument?
35 years on cornet
Started on cornet, aged 8, moved to sop and Eb Bass briefly, tenor horn, back to cornet
What is your favourite piece of music?
Band: Entry to the Minster
Other: too many to choose from
Which is your favourite brass band?
Grimethorpe
Who is your musical inspiration?
Geoffrey Whitham
What piece of music would you like the band to play?
Overtures: e.g. Thieving Magpie
Solo Cornet – Rachel Godden
Joined the band in 1999
How long have you been playing your instrument?
Did you start on your current instrument?
I started on tenor horn for a few months then switched to cornet which I've played for just over 10 years
Do you play any other instruments?
I've played the piano for 13 years
What is your favourite piece of music?
My favourite brass pieces are Oregon, Children of Sanchez and Cossack Fire Dance – I really can't choose between them
Which is your favourite brass band?
Mnozil Brass
Who is your musical inspiration?
Ken Cranstone and Michael Cherry (taught me everything I know in order to survive on 3rd Cornet and the back row)
What piece of music would you like the band to play?
Pastime with Company because it's awesome
Flugel – Bethanie Johnson
Joined the band in 2002
How long have you been playing your instrument?
Did you start on your current instrument?
Been playing flugel since the beginning of 2010 but started on 2nd tenor horn, although I moved swiftly to Solo Horn for the contest in Folkestone in Nov 09!
Do you play any other instruments?
Also play flute and used to play bassoon but not sure I can remember how to play it any more!!!
What is your favourite piece of music?
Classical – Bach's Prelude in E-Major
Brass Band –Grandfather's Clock, Napoli, Hungarian Rhapsody No.2
Pop – I Can See Clearly Now (Johnny Nash)
Which is your favourite brass band?
Camberley Band of course!
Who is your musical inspiration?
Whole family was musical when growing up, we all played an instrument – I always wanted to play the oboe but for some reason I wasn't allowed!
What piece of music would you like the band to play?
Northern Landscapes
CONGRATULATIONS
19th August 2010
I am delighted to hear about the bands 50th Anniversary.  I remember the day course in Camberley very well and enjoyed working with you all,  particularly Gerrallt Hughes who was and still is an inspiration to us all.
Incidentally you may or may not know that as MD of Brighouse & Rastrick I have been programming Welsh Echoes recently so your band and Gerallt  have been in my thoughts a lot this year. We also recorded for BBC Listen to the Band which went out in May sometime I think!
Many congratulations to the Charles Church Camberley Band on reaching its 50th Anniversary. Here's to the next 50 years of enjoyment, laughter and music!
Alan Morrison
Musical Director
Brighouse & Rastrick Band
Former principal cornet of Grimethorpe and Brighouse and Rastrick Bands
HALF A LIFETIME
It all started when a group of like-minded musicians met together to follow their love, 'Music'. I was the youngest being only nineteen years old at the time. Just one year before, my mother had married Gerallt Hughes and the group suggested that we should ask him to lead us and so the band came into existence.
Half a century later it is still going strong; I am the only founder member lucky enough to have maintained continuous active service throughout this time. Of the many memories that come to mind the first must be my wedding at St. Peters Church, Frimley. As we emerged from the Church there is an archway of band members' instruments; right on cue the heavens open up and they all got soaked to the skin. We however, were lucky, in the picture is a man in glasses, Johnny who was a colleague of mine just happened to have the largest umbrella you ever did see.
Our first trip abroad to the original town twinning of Surrey Heath with Sucy-en-Brie. As we emerged with our hosts' en-route to a formal concert there is Cyril as high as a kite imploring us not to tell father.
Ron with his smelly cheese wafting through the coach. He had it in his pocket of all places. There are three coach loads in the party and we arrive late for the ferry home. All the dignitaries are on the first coach with all the paperwork. We don't make it and have several hours delay as we wait for the first ferry next morning.
In those days we did lots of marching engagements and there were practices in the woods behind Yorktown School. Most years since we started we have appeared at the Armistice Day celebrations and who could possibly forget the new guy, John with his bent trombone. Camberley carnivals escorting the Lewes Bonfire Society when the council employees set the trailer full of torches on fire. The band disappears in disarray to await the fire brigade.
Then it was down to Bath University to play for a couple of Ceilidh's. On one occasion the security men stopped the party in mid stream because there was a blizzard going on outside and if we didn't go home in the next 15 minutes we were not going home at all. One of my husband's friends who lived in Devon did not arrive home until the following Thursday.
The Womble's of Wimbledon came to Camberley and Gerry arranged their hit tunes so we could march them through the town. We were also the band in a performance of 'Hello Dolly' which was put on by the Camberley Amateur Dramatic Society -CAMUS.
One unusual memory I have is that of travelling around Aldershot in an open topped double-decker bus with the band at full flood as we went under a low bridge; the sound was just out of this world.
Possibly some of the most memorable occasions have been experienced in Germany with the music school at Bietigheim-Bissingem. Friendships that have been cemented over many years and which continue today.
The last fifty years have been exciting times. Our successes with Gerry and now my own family who continue the tradition. Coming up to date we have the Whit Marches, Ruth on principal, Robert as MD and the BASSES, 'OH DEAR'. Never to be forgotten memories and to all of you who have made it possible I say thank-you, thank-you, thank-you.
Jenny Cherry
The changing face of the band
1970s
1970
September – Town Twinning celebrations trip to Sucy en Brie
Hello Dolly production – band in scene when the Parade passes by
1971
First Quality Fair
1972
Camberley Carnival
1973
July – Band tried to lease a plot of land to build a band room but was turned down
November – 1st prize in third section at Reading Contest and promotion to second section
1974
November – Band lead the Wombles to Harveys – the band earnt £40 for this
1975
Band plays at Bath University folk dance society Ceilidh
1976
March – 3rd prize in regional contest – qualified for national finals
April – Band play fanfare at Presentation of European Flag of Honour Cermony
May – Musical evening to show case individual players – Jimmy Saville signed certificate to commemorate the event
1977
September – Sponsored blow – 100 tunes non stop to raise money for instruments
Gerallt Hughes presented with a cornet to celebrate his 50 years of playing
1978
May – Concert in town centre to raise funds for new instruments – Euphonium cost £850
September – Cap and muffler evening
1979
October – Band trip on the Basingstoke Canal at Odiham
MEMORIES OF THE BAND
A few "memories" I have of the band over the years I've been in it are – in no real order:
Mr Hughes giving me a free lesson at Mrs Smith's house in Sandhurst each week for some time after I joined the band as a total novice. Later a junior band being formed to accommodate the growing number of youngsters joining – sadly not the case today. (We seem to have gone full circle on that.)
the Jumble Sales that our supporters in the early days used to organise and run to raise funds – now even car boot sales are a bit old-hat!
a Harvest Festival service at St Michael's church, Yorktown, which was broadcast on radio.
my first contest – at Reading, playing Garland of Classics.
going up to Chiswick or Fulham by coach for a Remembrance Day event, which I think may also have been broadcast somewhere.
having choir practice instead of band practice one Friday when all the instruments were sent off to be converted to low-pitch, then fundraising in stages for a new set of instruments, and later still, getting the Lottery Grant that bought us a complete new set of instruments (in 1999, I think?).
winning the Deportment Prize and 1st prize at the 4th Section Finals at Wembley Town Hall in 1969.
the trip to Sucy-en-Brie in 1970 to mark Camberley's Town Twinning with the French town near Paris and the band's later exchanges with the accordion band in Beitigheim-Bissingen, Germany.
John Humphreys disappearing down a hole during counter marching practice for the carnival in Yorktown school playground (now the Islamic centre).
the midweek Camberley Carnival torchlight procession in 1973 when it started raining before we set off and by the end of the evening our blazers had dried into the position we'd been holding our instruments!
Carolling round the streets of Camberley, Frimley and Blackwater almost every weeknight evening in December for years and once receiving a box of chocolates for making every one!
the Quality Fairs that raised a lot of money for local charities/good causes and introduced the band to Jimmy Saville, who became its "Special Friend" for a number of years and shared some social evenings with us.
really enjoying Quartets and Septets – even occasionally coming in the prizes!
the variety of venues in recent years for Sunday concerts in the parks and year's new experience of the Whit Marches.
Music was my reason for joining but, over the years, many friendships were forged and that has been just as important.
I have found it really interesting that the band has also been a kind of "marker" for social change over the 50 years.   When I joined, weekly subscriptions were 6d for youngsters and 1/- for adults.  Local summer fetes seemed to be our staple engagements, with the occasional Sunday concert in our own community – the sun always shone, but it was never overbearingly hot!  Most members were able to attend every engagement – people weren't so mobile and there wasn't much else going on at weekends.  Our different bandrooms, uniforms and engagements all tell a progressive story – I wasn't in the band when it met at St Mary's, but I do remember the small "hut" in the grounds of Yorktown Church; the British Legion hall, where we had a fenced-in shed outside for our music store; the Methodist Church on the London Road (almost opposite the Yorktown hut), which was demolished when the town centrer evelopment began, and – our "home" since 1989 (I think?) – the comparative luxury of the brand-new Frimley Parish Hall.  Our various uniforms (I hated the long black skirts and the blue frills era!) mark the changes in the band's name over the years as well as brass band fashion trends and all point to the band living through really changing times – as Mr Hughes hinted at in the 25 years booklet.
One thing that has never changed for me, though, have been the arrangements for refreshments at contests –  enough said!
Libby Godden
The Back Row
Soprano – Catherine Baxter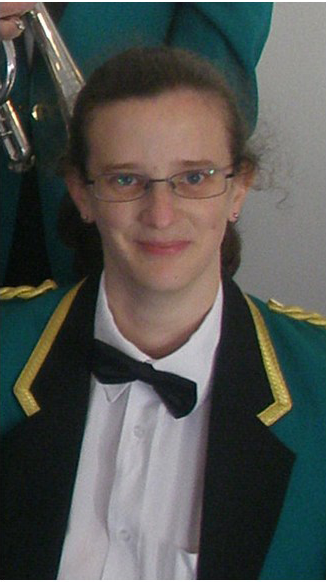 Joined the band in January 2006
How long have you been playing your instrument
Did you start on your current instrument?
I started on trumpet, played cornet once I joined the army (2002), and started soprano once I joined the band
Do you play any other instruments?
Piano – I got grade 8 merit, but don't have the opportunity to play regularly now, so am nowhere near that good now
Which is your favourite brass band?
Ours – I like to play Black Dyke – hear them in Durham Cathedral – it's fantastic
What piece of music would you like the band to play
Egmont Overture – Beethoven
A Christmas festival – Leroy Anderson
Folk Song Suite – Vaughan-Williams
Finlandia – Sibelius
Repiano – Tim Jackson
Joined the training band in 2006, and main band in 2008
How long have you been playing your instrument?
Did you start on your current instrument?
I began playing the cornet in January 2003, however temporarily moved to horn from the start of 2008 to the beginning of this year while I had my braces, but am back on the cornet again now.
What is your favourite piece of music?
William Tell Overture and The Theme from The Magnificent Seven
Which is your favourite brass band?
Charles Church Camberley Band!!
Who is your musical inspiration?
The top jazz trumpeters like Miles Davis.
What piece of music would you like the band to play?
Moonlight Serenade by Glenn Miller
2nd Cornet – Ken Cranstone
Joined the band in 1990
How long have you been playing your instrument?
My father attended many local bands' playing Bass Drum only. I can just about remember going to the British Legion club in Chobham and father marching through Lightwater playing bass drum, in uniform with Tiger Skin Apron.
I started playing the cornet when around 14 years old with Egham Band. Ernie from Egham Band gave me a lesson once a week, at his house in Walton Road, Woking. This probably only lasted a couple of years at most as the bus ride home became fraught when picking up drunk and bleeding passengers outside the pub in Knaphill. Only played out with Egham twice, Caroling and at the Disabled Rehab Centre in Egham. Briefly joined Bagshot Band and was out marching the first weekend. Probably gave up at age 17.
After Rebecca and Philip were born I went over to the Saturday rehearsal at Sandhurst with a beaten up old cornet I'd bought from a junk shop. After five weeks of this and being largely ignored I went to the British Airways Training Band and returned the first night with a decent instrument. Initially I was taught by Training Bandmaster, Barry Morgan. I was introduced to Camberley Band by Janice Watt whose children Robert and Caroline both played with BA Training Band. Took it in turns to drive up to the airport.
What is your favourite piece of music?
Nothing particular comes to mind. Liked the Beatles, Stones, Who, in my youth but also had a spell with Dizzy Gillespie, Stan Getz and Lionel Hampton. Not sure I should mention the Tina Turner Cd's or Brian Adams, Bruce Springsteen, Elton John in the rack today. Did buy Carol King, Tapestry when it was first released.
Who is your musical inspiration?
Joined a brass band I guess as father did… If that's being inspired??
What piece of music would you like the band to play?
Heard Fantasia on British Sea Songs, Full Version, no cut's, played by BA Band with the River Fowey as a backdrop. Always thought it was worth a try.
2nd Cornet – Louise Ashbery
Joined the band in 2000
How long have you been playing your instrument?
Did you start on your current instrument?
I started learning the Bb trumpet aged 11 in 1976!
Do you play any other instruments?
I like to fiddle about on the piano, only when I am alone!
What is your favourite piece of music?
Largo from Xerxes by Handel, March: Aces High, All in the April Evening, The Floral Dance.
Which is your favourite brass band?
Charles Church Camberley Band, naturally.
Who is your musical inspiration?
Handel, The Bee Gees.
What piece of music would you like the band to play?
The Day Thou Gavest the Lord Hath Ended, Aces High, All in the April Evening, The Floral Dance.
3rd Cornet – Andrew Hawkins
Joined the band in 2005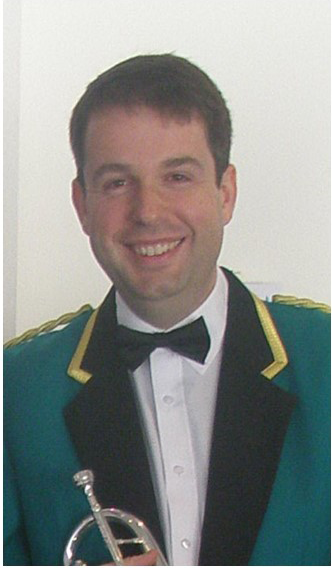 How long have you been playing your instrument?
I've been playing on and off since around 1983 with Swinton and District Excelsior Band near Malton which is near York.
I contested with them from the beginning. I missed a few years when I went to Uni and I stopped playing. I started on cornet – while I was at school I had a go on tenor horn and bass but as most people accept cornet is the best instrument in the band!
What is your favourite piece of music?
Anything without those funny # signs at the beginning of each line. However, I have to say one of my favourites is Barnard Castle – for no other reason than it brings back such great memories when I played this as a kid on the cliffs at Whitby in the summer with Swinton band.
Which is your favourite brass band?
Hmm tricky – obviously ours. However the band which really inspired me was Brighouse and Rastrick which I went to see when I first started playing.
Who is your musical inspiration?
Ken Cranstone
What piece of music would you like the band to play?
Practically anything – although I really hope we will be able play "The Lord Bless You and Keep You" one day!!
3rd Cornet – Phillip Bolland
Joined the band in the 1995 and again in 2009
The Band in the Community
From the outset our band has been an integral part of the local community. It has formed links with other local groups including churches, schools, hospitals, arts festivals, the Royal British Legion and individual charities. We have played and organised a wide range of special fund raising events, including the Ken Thomas Scanner Appeal, victims and families of the Royal British Green Jackets Band bomb tragedy, Year of the Disabled, Guide Dogs for the Blind, St John's Ambulance, St Peter's Church building extension fund and Frimley Park Hospital who over the years have received a sum in excess of £25,000 from our Christmas engagement programmes and carol collections.
In the 1970/1980's the band organised the annual combined organisations quality fairs in the Civic Hall, Camberley and was the brainchild of David Marsden a former chairman and stalwart of the band. Over the 14 years a sum in excess of £25,000 of much needed funds was raised. We were fortunate to have had Sir Jimmy Savile as a special friend of the band and his support and presence at these events greatly increased attendance and interest. He joined in on the band's social activities – especially the pies and mushy peas night and our repertoire include music specially arranged by Gerallt Hughes to mark one of his Lands End to London charity runs.
Since the band was formed it has played, free of any fees, at every Armistice Parade and services, bar one. The one gap was when an over enthusiastic parade marshall decided without any notice or consultation that our services were no longer required because the parade had contracted in size. What he had overlooked was that bugle bands cannot play hymns or the national anthem and the service at the war memorial became an embarrassment with many red faces on display. We returned the following year. The same parade marshall continues to show little respect for our contribution but the chaplain, mayor and other civic dignatories express their appreciation on the day.
We were an inaugural member of the Surrey Heath town twinning association and have represented the borough at the civic ceremonies in Sucy-en-Brie in France and Bietigheim-Bissingen in Germany. During our visits to Germany 9 concerts were performed including performances at the international flower festivals in Bietigheim and Stuttgart. Additionally our members and friends have hosted groups of 50+ young accordian players from the Bietigheim Bissingen school of music on 3 separate occasions when very successful joint concerts were performed. More recently we hosted members of the Plouzane Wind Band under their musical director Colin Exley an ex member of our band who now teaches in France.
The training, development and encouragement of young players has been a feature of our history. We have organised day courses for young brass musicians as part of the Surrey Heath arts festivals which were an outstanding success where course members enjoyed tuition and expert performances from internationally recognised instrumentalists. Additionally a number of members continue to work with local primary schools to give young pupils an opportunity to experience playing brass instruments.
We have a proud record and the Charles Church Camberley Band can rightly claim to be a valuable local asset which readily and fully identifies with the musical and social life of the community. Long may it last.
John Roberts
A Few Light Hearted Moments
The following are a few highlights from the last few years that made me chuckle. You had to be there to get the full effect, but I will do my best to paint the picture.
Bietigheim 1989
It is August 1989 and the band is on a ten day trip to Germany to meet up with old friends in the Accordion Orchestra in Bietigheim. It is our first full day, the sun is shining, it is hot and we have just finished a welcome reception with the mayor. This afternoon we will have a rehearsal, but plenty of time to grab some lunch. So a group of about 12 of us decide that a pizza would fit the bill (nothing like sampling the local traditional delicacies).
All is going well and the waiters bring out the pizzas. They look delicious and you can see the steam rising from them. Mouths are watering for the feast we are about to sample. It was at this moment that one of the most infamous events in the band's history happened. The waiter leaned across John [Roberts] to place one of the pizzas on the table. It was then that time seemed to stand still and the events played out in slow motion as the pizza delicately and slowly slipped across and off the plate and deposited itself right into John's lap.
Horror of horrors, the piping hot pizza is now burning John in a rather delicate region. Now you may be surprised at the reactions this generated from the rest of us. You are probably expecting concern and welfare for John's well being and enquiries if he is all right. But I am sad to say that was not the case. To start with John promptly stood up and dropped his trousers in the middle of the restaurant, which provoked a look of horror from our principal cornet player who was a young 16 year old at the time. A number of us laughed at the hilarity of the event. Richard [Dunkley] and Andrew[ ? ] didn't blink and just tucked into the remaining pizzas quickly, but perhaps the best reaction is saved to last. You may be expecting that John's lovely wife Jill is horrified that her husband may be badly burned and rushes to his aid. Alas not, Jill's first words were the immortal "are your trousers ok".
Reading Contest
A number of mishaps have occurred whilst contesting, not least the dreaded number one draw of which the band has had more than its fair share of late. The event that I most remember however occurred during the late 1980s. We were regular attendees at the annual Reading Contest, which always took part in the latter part of November. On this particular occasion our section was taking place over the morning and early afternoon period. At the time Arthur [Wyness] one of our Eb bass players was a postman and therefore always up and about early. On this particular day he had completed his shift and come straight to the contest at Reading. Understandably Arthur was quite tired so decided to get
some sleep in his trusty VW camper van. This of course was not a problem. The draw had taken place and surprisingly we were not number 1. We were due to be playing a little after 1.00pm. So Ray [Waite], his fellow Eb bass player agreed that he would wake Arthur up in plenty of time (can you see where this story is leading?).
As the draw slot approached the band got suited and booted and it was just waiting its turn for registration. The band before us was just leaving registration and we were about to go through, when suddenly Ray looked as though he had seen a ghost. His face went white and a look of pure horror crossed it as he suddenly realised that Arthur wasn't there! I have never seen Ray move so quick as he made a mad dash as the rest of us went into registration.
It looked at this stage as if we may be playing with no Eb basses, as we all signed up and waited our turn. With literally seconds to spare, Ray and Arthur arrived back, both seriously out of breath and with Arthur looking more than a little dishevelled, having been sound asleep when Ray suddenly started hammering on his door. They both signed on as we took the stage. I'm not sure how they got through the performance but disaster was averted. Unsurprisingly though, we didn't make the prizes that year.
Hyde Park
In 1986 the band were
invited to play at a celebration for St John's Ambulance in Hyde Park, London. It was to be a big party and the Queen and Prince Phillip would also be in attendance. The band was to play on the bandstand in the early afternoon, but we arrived early in order to enjoy the festivities.
One of the events taking place was the cooking of the world's largest sausage, I can't remember exactly how long it was but it was something like one mile. Anyway, hot dogs made from this sausage were the order of the day and a few of us decided to sample it. Now given that food is involved and the pizza story of earlier on you will not be surprised to learn that Richard [Dunkley] was involved once more.
The rest of us had obtained our hot dogs and Richard was the last in line. He got his and proceeded to put on the ketchup etc. At this precise moment Prince Phillip was being shown around and introduced to those who were cooking the sausage. He stopped behind the area where Richard was putting on the Ketchup to talk to the people there. Now you will recall that when the pizza fell on to John, Richard calmly carried on eating the pizza as though nothing had happened.
Prince Phillip is now standing virtually in eye contact with Richard and so what does Richard do? Does he calmly stand there ready to talk to the Prince and/or observe what is happening? No he proceeds to take a huge bite from his hot dog oblivious to what is going on around him. Nothing would get between Richard and his food, not even Prince Phillip.
Bietigheim 1993
In 1993 the band made its last of three visits to Bietigheim in Germany. On this occasion it was a week long trip and plenty of visits to local places of interest were planned including Heidelberg, Strasbourg and Rothenberg. For those of you that don't know Rothenberg is a very picturesque medieval walled town and has been featured as a film location for amongst others Chitty Chitty Bang Bang. It certainly is a very picturesque town and well worth a visit.
On the day we visited Rothenberg the weather was beautiful and our hosts had arranged a guided tour of the town. Following the conclusion of the tour we had a few hours free time to explore the town ourselves. After a pleasant few hours I started to head back to the coach, which was on the outskirts of the town. As I was heading down the hill I saw someone coming towards me at quite a pace. Karen [Ellis – soprano] was running up the hill towards me shouting for me to come quickly with the video camera.
I picked up my pace to see what all the fuss was about and arrived at the coach to find Cyril [Robinson – flugel] sat on a bench near to the coach in fits of laughter. No one is too sure why he was laughing but we quickly discovered that our musical director [Gerallt Hughes] was also involved in the laughter. Could they stop – no and the incident was of course captured for posterity. Despite their protestations to the contrary it quickly became apparent that a few "sherbets" had been consumed. Whilst most of us had been busy exploring Rothenberg they had stopped for "one" beer as it was so hot (and in fairness it was quite warm). They continued to insist for years afterwards that they had only had one drink but because they hadn't eaten it made them a little light headed. No one really believed them, but the laughter was very infectious and soon the whole band was joining in.
Cyril is sadly no longer with us having passed away this year, but I will always remember him sat on that bench in Germany with tears of laughter streaming down his cheeks. We never did find out what had set him off.
Robert Cherry
1980s
1980
June – Delivery of four new basses
November – 4 junior members get Jim to Fix It to see how instruments are made
1981
100 years centenary concert Methodist church Camberley
1982
Wilton House garden fete – Princess Anne attended
Concert with Watchetts Middle school choir at civic Hall for victims of London Bombing
1983
May – Band changes name to Charles Church Camberley Band after sponsorship from Charles Church
1984
April – Visit from Accordion orchestra from Bietigheim – Bissingen
1985
Played at Round table 50th Charter
November – Bands 25th Anniversary, including commemorative book and anniversary dinner.
1986
March – 3rd place in area contest and qualification to National Finals
Trip to Bietigheim Bissingen
June – 100th Anniversary of St John's Ambulance – Hyde Park
October – National Finals
1987
March – 1st Day course with Jim Davies
December – Played at London Marriott for Charles Church Christmas function
1988
April – Visit of Accordion Orchestra from Bietigheim -Bissingen
May – Final Quality Fair
1989
July – Death of Charles Church the sponsor of our band
August – Band trip to Bietigheim – Bissingen
September – Wedding of Georgina Church and Alistair Watts
OUR PATRON
My late husband, Charles Church, was first taught by Gerallt Hughes when he was at Windlesham School, aged 4 ½ years old. He said that his class teacher (I do know her name!) was obviously in love with your glamorous grandfather! (Gerallt Hughes—this Is from a letter written to Ruth Adams).
Gerry instilled such a love of music into the children that they used to win most of the choir competitions they entered. He taught them to stand nicely with their hands clasped in front of their waist, heads up.
Gerry approached us for sponsorship when he realized that Charles Church Developments was run by the red headed rascal he used to teach twenty years previously. Charles was delighted to meet him again and agreed to the sponsorship deal, if the band's name was changed to include the company name. The uniform was to be in the Charles Church colours.
Gerry used to bring the band to our home in Hampshire for special events, like our annual Charity Clay Pigeon Championships in aid of The St. John Ambulance. Whenever my mother appeared, the band would start to play Irish songs, to remind her of her childhood. They also played at both my daughters' wedding parties. I have a lovely piece of film showing them playing the Maori song "Now is the Hour, For me to say Goodbye" as Georgina and Alastair took off in a hot air balloon to start their honeymoon.
Gerry Hughes and The Charles Church Band are associated with many of the happiest times of our life, until my husband's untimely death in 1989.
I wish them happiness and success for many years to come.
Susanna B Church
The Horns
Solo Horn – Libby Godden
Joined the band on 6th May 1966
How long have you been playing your instrument
I've played tenor horn since I joined. I started with an old, slightly buckled and much-repaired Hawkes & Son instrument (I can still remember the smell when I opened the case!), and since then have had 2 new Sovereigns.
What is your favourite piece of music?
I have so many! But I'll go for:
Band – Partita
Other – Hebrides Overture by Mendelssohn (Fingal's Cave)
Which is your favourite brass band?
Since way back I bought my first band LP of Grimethorpe Colliery Band playing hymns,
Who is your musical inspiration?
Mozart but, in terms of joining the band, it was Jennifer Cherry, who played Silver Threads at a concert at Sandhurst Methodist Church at which I instantly fell in love with the sound of the tenor horn!!
What piece of music would you like the band to play?
It would be great to play some of the earlier, more "classical" pieces in our library – any of the old overtures, etc. Polished Brass and Finlandia, I especially liked and the test pieces we've played over the years – Labour & Love was a good one, but there have been lots over the years that I've enjoyed.
I started leading The Training Band once a month in 2005 and took over comp
letely in 2006. I was appointed Deputy Conductor in 2007
Solo Horn – Karen Pitts
Joined the band in October 2009
How long have you been playing your instrument?
Did you start on your current instrument?
6 years on horn, this time around.
Started on cornet, aged 8; moved to tenor horn aged 10; moved to 1st baritone at 14; moved to horn again about 30 years later!
Who is your musical inspiration?
Black Dyke as they are my favourite band too.
What piece of music would you like the band to play?
Toccata from the Suite Gothique by Leon Boellmann as it is my favourite piece of music.
1st Horn – Jennifer Cherry
Founder member of the band in 1960
How long have you been playing your instrument
56 years
Do you play any other instruments?
Used to play piano
What is your favourite piece of music?
Poet and Peasant
Which is your favourite brass band?
Black Dyke
Who is your musical inspiration?
My Grandmother and Gerallt Hughes
What piece of music would you like the band to play?
Best of the Seekers
2nd Horn – Michael Cherry
When did you join the band?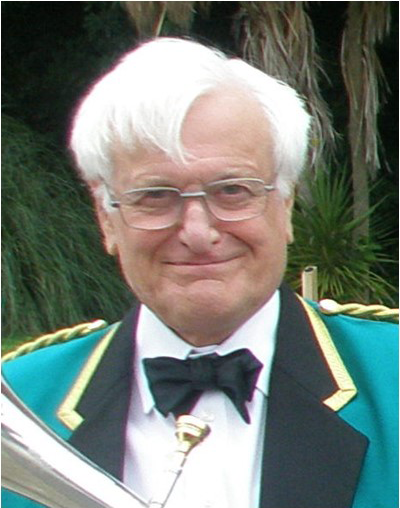 On the day I walked up the aisle, she never told me about it but they do say for better or worse. They were all in the church, up in the gallery kicking up a racket, first came across them in a cold hall in West Norwood where they played this indescribable music. Once you get ensnared you cannot escape
How long have you been playing your instrument?
Did you start on your current instrument?
I have had a chequered career, cornet, bass, cornet again, horn and of course the big bass drum. No doubt about it, the tuba is best of all. The big bass drum is a close second, you can get your own back on the M.D. and there is nothing he can do about it. I well remember one occasion when we were disappearing up a lane into the woods giving it the double beat and the whole sh'bang came to a stop. M.D. was not a happy bunny but we were nearest to the tea pot and got in the door first.
Do you play any other instruments?
Sooner or later I will get a tune out of any instrument I am given but I have to admit I cannot play any of them properly, that is why Robert gives me gadgets to play and they are even more difficult. Whoever invented a wildly swinging bit of bent metal known as the triangle must have been out of his tiny mind or was he getting his own back on the conductor.
What is your favourite piece of music?
'All in an April evening'. First came across it when singing in a male voice choir. Traditional music
Who is your musical inspiration?
It was an old fashioned wind up gramaphone when I was about six years old. We had one record with 'Joe the Carrier Lad' on one side and Gracie Fields on the other singing the 'Isle of Capri'.
What piece of music would you like the band to play?
'The Swedish Masquerade' (Traditional)
CONGRATULATIONS
Congratulations to Charles Church Camberley band on achieving 50 years of music making. I remember taking part in one of your courses in 1993, and of the wonderful spirit that existed within the band. No doubt due to the enthusiasm and expertise of your conductor at the time.
I sincerely wish you all every success in the future, and I toast your memorable achievement.
Cheers, I raise my glass to you all.
Gordon Higginbottom
Tenor horn of Harry Mortimer All Stars and James Shepherd Versatile Brass
MY INTRODUCTION TO BANDING
My introduction to the band came when I met Libby. When they asked at work the next day I knowledgably told them that she played the solo hornet. I had left school with no musical ability whatsoever, unable to read music and never offered an instrument to play, and over the subsequent years the situation didn't improve – I couldn't get a note out of Libby's instrument, and if she sang a note I couldn't reproduce it. Meanwhile Nicholas and Rachel came along and progressed on their instruments, but it didn't rub off on me. Nevertheless, Mr Hughes insisted on a number of occasions that the band needed me!!
Then one Friday evening before band practice, Rachel found two mice in the tub of guinea pig food in the shed; despite protestations, Rachel didn't release them there and then and somehow they crawled inside her jumper sleeve. "Take that off outside", we screamed, but sure enough the mice ended up indoors. By now it was time for the three of them to go off to band practice. Three hours later, the lounge was in turmoil, bookcases and organ pulled out, furniture upside down and doors barricaded to contain the problem. Despite that, the last mouse had been caught in another room shortly before the others returned from band. "Not much progress with the tidying up" was their greeting! I remembered Mr Hughes' words, surely misguided, but in any case it would be a preferable way of spending a Friday evening.
I was duly fitted out with a baritone and after some tuition from Mr Hughes was allowed to sit alongside the basses until I built up confidence to join in, and very gradually progress – usually learning the hard way, such as at my first Remembrance Day Parade in Camberley when Nicholas' top tip was to keep the mouthpiece warm in a pocket. Then standing face to face in front of a line of young cadets about to play the first hymn, I realised he hadn't given me the other useful piece of advice – to retrieve the mouthpiece before playing!! Nicholas and Rachel were never backward in reminding me that I was the worst player in the band, an epitaph all the more poignant once when the band had been placed last in a regional contest for the lowest section in the lowly London & SE region. High notes were always a problem, so when practicing Hawaii 5-O one Friday, Robert had the euphoniums and baritones trying to play the top C that started a phrase as a long note. It didn't sound good and despite all my efforts I couldn't produce anything but a high-pitched squeal, so suspecting a problem with my instrument I dropped off. "That's it!" declared Robert immediately, "that's how the note should sound". Sympathetic grins from the cornets…!
Another Friday, there was a commotion among the cornets, and the cause became apparent moments later when a millipede crawled across the bandroom floor heading straight for the baritones. A glance from solo hornet meant that it was for me to deal with the creature. Just as 1st baritone embarked on a tricky section I was on the floor trying to rescue the millipede from between his feet and music stand, coaxing it onto my sheet of music. With the creature safely contained in the paper, I returned to my seat. Carefully I opened the sheet to inspect my catch – complete disbelief, it was empty!! It was just like a magician's disappearing trick. By now 2nd horn was in hysterics, having seen the millipede make its secret bid for freedom, and gauging it would be a bigger laugh by not letting on.
So progress is slow and erratic, but fun. Hopefully Mr Hughes' vision will one day be realised; I remain grateful to the band for its patience in the meantime, and for giving me such an enjoyable opportunity.
Robert Godden
GIRL ON SOP
The memory that stands out in particular for me is the mention made of "a fine young girl on sop" in a review of the band after my first contest (and then finding out that my father-in-law knows the gentleman who wrote that!). Mostly my memories are general – the kindness and gentleness of Roy, who gave me lifts week after week; Robert's continual banter with Ken; the band's continual banter with Robert after he was the only one to get a mince pie at the first Camberley Town Carol Service, and the warmth of friendship I have always found at the band.
Catharine Baxter
Easter Tour to Bietigheim 1986
Thursday
Depart Camberley 7.30pm
Via Dover – Calais through Belgium to cross border at Aachen and then down the Rhine Valley
Friday
Arrive Bietigheim approx 2.30pm depending on traffic
Spend rest of afternoon and evening with hosts
Saturday
Possible trip to Stuttgart to visit shops with hosts
Afternoon rehearsal
Evening concert with accordion Orchestra
Sunday
Trip to Heidleberg
Monday
Trip to museum
Evening farewell party
Tuesday
Morning departure for home
Wednesday
Early hours return to Camberley
VISIT OF THE CHARLES CHURCH CAMBERLEY BAND – August 1993
Sunday
Arrival of guests at Hallenbad Bissingen
Monday
Reception at the townhall Bietigheim
Tour of Bietigheim
Tuesday
Visit to Landesgartenshau
Concert at Landesgartenshau
Wednesday
Trip to Munich
Thursday
Trip to Europa Park
Friday
Trip to Rothenburg
Saturday
Free time with guests
Concert in Landesgartenschau stage
Sunday
Festive procession at Markgroningen
Farewell party
Monday
Leave to travel home
TOWN TWINNING (extract from programme in 1988)
The Accordian Orchestra from Bietigheim-Bissingen under the leadership of Jurgen John first visited England and Surrey Heath in the Spring, 1984. They were hosted during that tour by the Charles Church Camberley Band members and friends as they are on this occasion. The first joint concert was played on Sunday following Easter 1984 with the Accordion Band giving us a musical treat and a sound that was different to our ears.
To the credit of everyone concerned, strong friendships which began at that time between the Charles Church Camberley Band and the Accordion Orchestra and between individuals have flourished. Our own band visited Beitigheim at Easter 1986 and had a wonderful time with our German friends. The second joint concert was played on Easter Saturday 1986 when we played the major part. In the words of the Bietigheim newspaper music critic 'it was an evening filled with music and fun'. This was no over-statement, it was great fun. Now, two years later at Easter 1988 we look forward to another few days of music and fun together with our friends from Bietigheim. Another few days when friendships will be made and others strengthened. We look forward to hearing their music which is always so well rehearsed and played. We look forward to playing our third joint concert with them but most of all we look forward to our continued relationship with the people of Bietigheim-Bissingen our Twin Town.
CONGRATULATIONS
I remember the anxious faces of the band members when the Doyen team arrived for the recording sessions! However they were soon put at ease and everyone seemed to enjoy this special occasion. All the members of the band made us very welcome and we thoroughly enjoyed our weekend with the members of Charles Church Camberley Band.
Congratulations to you all in your 50th Year! May there be many more!
Kind regards
Alison Childs
Producer, Doyen Recordings
EUPHONIUMS AND BARITONES
Solo Euphonium – John Roberts
Joined the band in 1974 when his son
started lessons with Gerallt Hughes.
How long have you been playing your instrument?
Did you start on your current instrument?
I started on bottom 3rd cornet in the Ammanford Boys Band but transferred to 2nd horn to cover a vacancy a short time before the National Youth Finals in Manchester. We came 2nd to Besses of the Barn and 3rd the following year. Most of the Boys Band were absorbed into the senior band where I played 2nd trombone and then 2nd baritone again to cover a vacancy before the 2nd section National Finals in Manchester where we came 4th in what would now be the 1st section. I left home in 1950 to take up a post at Howell where I helped out the Thatcham Band and Inkpen village band on euphonium. In 1951 I did my National Service in the RAF and played with the Station Band at Lyncham. On completion of National Service in 1953 rugby football took over but I still managed the odd blow with the Newbury Band. A further transfer to Dorset in 1960 temporarily ended my brass playing until 1974 and the rest is history!
Do you play any other instruments?
In the 1940s they did not have a National Youth Brass Band of Wales but they did have a National Youth Orchestra. A number of the Boys Band successfully auditioned for brass positions. With no opening for Tenor horns I borrowed a French horn and worked on it before my audition. I was not selected initially but a late vacancy arose and I was included as the 8th horn.
What is your favourite piece of music?
I was bowled over when Black Dyke played Le Roi D'ys with Geoffry Whitham playing the beautiful euphonium solo. It remains with me as an outstanding memory. Journey into Freedom – Eric Ball would be a close second.
Which is your favourite brass band?
Black Dyke for it's consistent high standard over the years – hotly followed by Cory Band over the last 10 years (or is this Welsh bias creeping in!!)
Who is your musical inspiration?
Harry Mortimer in my youth, Peter Parkes with Black Dyke, which coincided with my renewed interest in banding in 1974. There have been many other charismatic conductors who have moulded inspirational performances.
What piece of music would you like the band to play?
Some of the traditional brass band pieces, including arrangements of orchestral classics and the odd Gilbert and Sullivan which always go down well with the audience.
Euphonium – Louise Walter
Joined the band in 2006
How long have you been playing your instrument?
Did you start on your current instrument?
Euphonium for a year. Cornet since 2005
Do you play any other instruments?
Double bass, electric bass and piano
What is your favourite piece of music?
Shepherds Song (as Robert has just removed it from the concert programme!)
Which is your favourite brass band?
Camberley of course!
Who is your musical inspiration?
My Dad who taught me to play the cello and then the double bass
What piece of music would you like the band to play?
Grandfather's clock – Graham Doughty (maybe one day!)
Euphonium – Ray Fell
Joined the band in 1997
How long have you been playing your instrument?
13 years tuba/trombone/euphonium
Do you play any other instruments?
Piano
What is your favourite piece of music?
All in the April Evening – great bass line
Which is your favourite brass band?
Black Dyke because I've performed on stage with them. (I was in the Skelmanthorpe Male Voice Choir and we did a joint concert!)
Who is your musical inspiration?
Miss Markland the choir mistress at my Grammar school. She knew how to get the best out of a lot of breaking voices
What piece of music would you like the band to play?
Procession to the Minster by Wagner arr.Snell
Euphonium – Nicholas Godden
Joined the band in 1995 on his 8th birthday
How long have you been playing your instrument?
Did you start on your current instrument?
I started on percussion before moving to baritone in about 2000. After a couple more years I moved onto the euphonium which is now my main instrument. I don't have my drum kit any more but still enjoy playing occasionally.
Do you play any other instruments?
Not any more, although I used to play the recorder.
What is your favourite piece of music?
Probably a test piece called Extreme Makeover, though I don't expect I'll ever be lucky enough to play it.
Which is your favourite brass band?
I don't really have one, but I always love hearing Black Dyke in concert.
Who is your musical inspiration?
My grandad. I used to listen to rehearsals when I was very young and apparently always wanted to sit next to my grandad on the big bass drum.
What piece of music would you like the band to play?
I'd love to play the theme music to Zulu again, it's probably the most exciting and dramatic piece I've ever played.
1st Baritone – Richard Moss
Joined the band in 2003
2nd Baritone – Robert Godden
Joined the band in 2
003
How long have you been playing your instrument?
I've only played the baritone
What is your favourite piece of music?
Light Cavalry
Violin Concerto No. 1 (Max Bruch)
Sunshine of your Love (Cream)
Which is your favourite brass band?
Boobs and Brass
Who is your musical inspiration?
Mr. Hughes
What piece of music would you like the band to play?
Rodrigo's Concierto de Aranjuez
Saint Saens Variations at a public concert
CONGRATULATIONS
Congratulations to the Charles Church Camberley Band on reaching its 50th anniversary. I remember doing a master class with my brother Nick in the early 1990s. We had a great time and I recall the day was not only productive but also great fun. I think Gerallt Hughes was in charge then, what a great and inspirational guy!!
Best of luck in the future and best wishes from both myself and Nick.
Yours sincerely
Bob Childs
Musical Director, The Cory Band
1990s
1990
December – Concert with Priory Players
1991
March – Day course with Robert and Nicholas Childs
1992
January – Cheque presented to Frimley Park Hospital for£1250
March – Day course with Gordon Higginbottom, Alan Morrison and Miles Davison
1993
August – Trip to Bietigheim Bissingen
1994
October – Concert with Accordion Orchestra from Bietigheim Bissingen
December – Gerallt Hughes awarded a Local Hero award from Meridian TV. Band appeared on local television.
1995
April – Day Course with Phillip McCann and Nicholas Hudson
1996
November – Concert with Vivace Girls Choir
1997
January – Cheque presented to Frimley Park Hospital for £1575
July – Concert in Sunbury Walled Gardens
Grant for £6000 from the Foundation for Sports and Arts to buy 4 cornets and percussion instruments
October – Band wins 2nd prize in Folkestone Contest and first prize in hymn section
1998
National Lottery Arts grant awarded
Band commission march written by Goff Richards called Camberley
1999
January – Gerallt Hughes receives Diploma from the Worshipful Company of Musicians
Band get new uniforms
April – Celebration concert with Roger Webster as guest
July – Goff Richards attends rehearsal to practice Camberley
Instruments donated to Camberley Youth Wind Orchestra for their project in Uganda
Making the Audience Feel Sick!!
In April 2009 our euphonium player picked a fight with an electric saw which resulted in a partial amputation of his left thumb. He was treated at the Accident and Emergency department in Frimley Hospital and after some 2 hours of detailed embroidery on his thumb he asked the surgeon whether it was O.K. for him to play in a band concert on the following Saturday – 2 days after his accident.
The doctor was taken aback and responded by saying – "Here am I trying to save your thumb and your only concern is performing in a concert" (or words to that effect but in more colourful language!). The player explained that there was little he could do to affect the outcome on his thumb but his presence could influence the outcome of the concert.
With his thumb strapped up, left arm in a sling and a ready supply of painkillers he played in the concert. He was due to play a solo item but before doing so Robert Cherry outlined to the audience the nature of the accident but not without prior warning that anyone who was squeamish should cover up their ears.
The audience reaction was predictable with the player responding that it was the first time he had made the audience feel sick before he had even blown a note!!!!!
John Roberts
A Very Short Story
I'm not sure how it happened but my first experience with the band was playing at the school fete (the school we sometimes practice at on Frimley road). I can't remember if I'd even been to any rehearsals before that with the band and I was the only trombone there (how things change!). Previously I'd played with bands up North where it was not unknown to have the odd wee drinkie while playing. Anyway, it was a hot day and I was getting pretty parched so when the half time interval came up I made a foray to beer tent and got a few cans. During the 2nd half I had a can under my chair and one in the beer holder I have attached to my stand. It wasn't until the next band practice that someone came up and told me that the band didn't drink anything while on engagements (even water at that time) and especially not beer. I was more than a bit surprised I must admit.
The other one that springs to mind was at our main concert in Camberley church about 3 years ago. We had arrived early to help setup and I think I was driving the van to get all the drum kit to the concert so we were a bit short of time. Just before the concert when everyone went to get changed I found that Beth had packed her band skirt for me instead of my trousers. I'm not sure what she was trying to tell me but I don't think I've got the legs for it. It was a bit of a close run thing to get back and get some trousers instead.
Alan Johnson
An Unexpected Friendship
I first met Gerry and Robert in May 1992. It was at the concert Hall in Cardiff. At the European Championship. Yes, the winner was Brittania Bu
ilding Society and Howard Snell. They played "The Year of the Dragon "by Philip Sparke.
I visited Wales and went to the very famous concert hall in Cardiff, the name of which I forget unfortunately, listening the European Brass Band Championship contest in May 1992 by myself.
As I was lonely, a nice old gentleman said to me " Where are you coming from?", "Do you play brass instruments?" I answered ,"I come from Japan. I play tenor horn with my band." The gentleman said, "OK. I will tell you how to play it. Like this!" He buzzed just with his lips. He was GERRY! Gerry introduced me the young boy sitting next to him. (young boy was 22!!!! – ed.) "This is my grandson, Robert." It was the first time for me to meet Gerry and Robert. We changed the postal address then, as we had no Email system these days. (Our recollection is slightly different. Ryoji saw an article in the British Bandsman about Gerallt Hughes and wrote to the Bandsman asking them to forward a letter to the band to give to him – ed).
I visited England again, maybe the next year. Then I stayed in the UK for one week. I stayed at Robert's house for three nights. Then I visited band rehearsal and I could play with the band at the outdoor concert luckily. As I had no uniform of the band, Jennifer gave me the blue shirt and I played wearing the nice shirt. I still wear it sometimes.
Then I often visited
your house (The Cherry family – ed) and bandroom whenever I visited UK on business or on private trip.
I went to Robert's wedding ceremony and party afterwards. It was quite a short trip. Just four days, leaving Tokyo on Friday, arriving at London on Friday, attending the wedding on Saturday, leaving London on Sunday and arriving at Tokyo on Monday!
It is a marvellous experience to stay at your house (The Cherry family – ed), to feel true British life, to join the rehearsal, and to play with you at the outdoor concert.
Many scenery and memory come to my brain.
Please give my best wishes to Gerry, Robert, Michael, Jennifer and band members.
Ryoji Fujii
The Trombones
Solo Trombone – Alan Johnson
Joined the band in 2001
How long have you been playing your instrument?
Did you start on your current instrument?
I started on the piano, my parents forced me to do this to learn to read music and I was allowed to choose an instrument when I got to grade 4. I started the trombone at around 7 or 8 I think and I've been playing it ever since. The mouthpiece I use is the one I first started with 30 years ago!
What is your favourite piece of music?
Favourite band music would have to be Pascagalia by Butterworth or Moorside Suite by Holst. Other music, I like rock music and other more cheesy 80's stuff.
Which is your favourite brass band?
Black Dyke, they combine superb skill with a bit of bite
Who is your musical inspiration?
Both my parents were keen musicians and I was brought up with music always being around, my Mum was a flute teacher and my Dad played the oboe. My trombone teacher was a real character with a very interesting life and as well as teaching me we used to go to play in paid jazz concerts etc so it would have to be him I think
What piece of music would you like the band to play?
I like practicing solos and there is one I'd like to be able to play (but probably never will be able to) called Badinerie which was a Brighouse and Rastrick trombone solo and is unbelievable. I'd like to play The Acrobat again, Lucy Long and Swing Low Sweet Chariot at some point.
Solo Trombone – David Bell
Joined the band in 1999 for two years and again in April 2009
How long have you been playing your instrument?
Played trombone since 1994
Do you play any other instruments?
Piano, Violin
What is your favourite piece of music?
In brass music any decent march.
Which is your favourite brass band?
Ulverston Town Band!
Who is your musical inspiration?
On the trombone, Brett Baker (Solo Trombone) Black Dyke
What piece of music would you like the band to play?
Death or Glory
Solo Trombone – David Pitts
Joined the band in October 2009
How long have you been playing your instrument?
Did you start on your current instrument?
Played trombone for almost 10 years. Started on cornet, aged 6, I was too small to play trombone; moved to trombone aged 7.
Do you play any other instruments?
Piano; just started ukulele
What is your favourite piece of music? – band music and other
Band: Aces High
Other: Sing, sing, sing
Which is your favourite brass band?
Grimethorpe
Who is your musical inspiration?
Mike Lovatt
What piece of music would you like the band to play?
The stripper
2nd Trombone – Jenny Thorn
Joined the band in 2003
How long have you been playing your instrument?
8 years
Do you play any other instruments?
Piano, recorder and handbells
What is your favourite piece of music?
Sussex by the Sea
Who is your musical inspiration?
Gerallt Hughes
What piece of music would you like the band to play?
Bohemian Rhapsody
2nd Trombone – Scott Strazdala
Joined the training band in 2006
Joined the main band in 2008
How long have you been playing your instrument?
6 years
Do you play any other instruments?
Tuba
What is your favourite piece of music?
The C.I.V
Which is your favourite brass band?
Black Dyke Brass Band
Bass Trombone – Maurice Moore
Joined the band in 2003 for a month whilst my former band was not rehearsing.
How long have you been playing your instrument?
Did you start on your current instrument?
I taught myself trombone in 1997, I moved on to bass trombone when I joined CCCB in 2003. At school, I started on French horn but only lasted a month before switching to euphonium (bass clef!). I played that until going to university when I gave up brass playing. However, a "sausage incident" which nearly killed me, in 1995 led, in a strange, way to my taking up playing again and I joined a concert band on euphonium. I switched to trombone as the two instruments have similar ranges and that band didn't have any trombonists at the time!
Do you play any other instruments?
Yes…. alto and tenor trombones, euphonium and baritone, tenor horn and tenor cor, descant and treble recorders, ukulele and tiple
What is your favourite piece of music?
I have so many it isn't easy to select just one, so here's a few….
Softly as I leave you – euphonium duet
Reunion and Finale (from Gettysburg)
Lament from Cry of the Celts
Procession to the Minster
Which is your favourite brass band?
I'm not sure I have one now – apart from CCCB, of course! I used to really enjoy the former YBS Band when it played under David King. They were so innovative.
Who is your musical inspiration?
George Rackley. George joined my previous band having only played in brass bands. He had played trombone for over 50 years but never needed to learn bass clef. I used to transpose his parts and in return he helped me learn the trombone. We became close friends and I picked up so much from him. Sadly, mesothelioma (an asbestos related cancer) claimed his life in a few short months during 2003. I still miss him.
What piece of music would you like the band to play?
I'm going for two!!
Leroy Anderson's Christmas Festival Overture
Wagner's Procession to the Minster – great concert finale!!
CONGRATULATIONS
I have great pleasure in congratulating CCCB on their 50th anniversary. I wish the band every success and hope that I shall be asked to write something for your 100th anniversary in another 50 years!!
Brett Baker
Educator & Soloist
Principal Trombone, Black Dyke Band
Vice President & Chairman, British Trombone Society
Memories
I've been banding for a few years now. I played with around 4 bands before I joined – I think I started when I was about 10 or 11 years. I started on 3rd cornet and progress to the front row hasn't been at the pace I may have dreamt in those days. I have only been in this band for a few years of it's history so I leave much of the longer term history to those who have served over these last 50 years.
The band committee meetings were a revelation to me, mainly the array of sandwiches and cakes delivered by Jill Roberts at half time. I haven't been able to carry that baton forward completely but I have tried to keep everyone nourished – mainly by my own hand but with help from Rachael if she has the time. (Mind you if anyone has a decent foolproof recipe for banana cake let me know, quite a few have failed to make it out of the kitchen!)
My biggest memory will always be the Whit Marches of 2010 very recent and I hope others will cover this too. It was the first time I have known Robert be almost late for anything band related. Oldham street names won't be his favourite trivial pursuit question in the future I guess. That coupled with a message from Louise and Owen that they had survived the hail and were an hour into boiling the kettle at their campsite – received just as we went into Costa coffee for a nice warm brew on the M40….and we won't mention the envelopes.
Another memory, if it counts, is the birth of 6 children (I lay claim to one) in the time I have been in the band along with a few only slightly older. Every now and then their paths cross at gigs and when they do they invariably get along well together which always makes me smile. Give it a couple of years and we will have a thriving training band …. they won't have any choice !
I have many small memories especially the groans and moans (often from the back row I admit) as we pull out a piece of music which is brown with age and dates back way before half of us were born, but it often makes me smile. The immediate havoc caused to the patented Cranstone filing system always brings merriment but that's not my point here. The day Robert got out Barnard Castle I immediately thought back to Whitby cliffs with my first band all those years ago; we embarrassed my dad by making him stand on a chair and play Happy Birthday that day. Ice Castles took me to a bandstand in Knaresborough and so on. I hope many of the youngsters who are in the band starting out today will remain as brass players in years to come and will have fond memories of when they played their music with Charles Church Camberley band. It may be Basingstoke as the wind ripped through the band and took half the stands towards the lake or maybe the time we managed to out sparkle Elvis with Teddy Bears Picnic who knows.
We have been supported for 28 years now by Charles Church Homes and the recent welcome extension to that is something we should use to look forward as a band for the next 50 (or so).
Andrew Hawkins
The Thorn Saga!
When we moved to the area, I worked with Mr Hughes at Westfields Junior School in Yateley as his musical assistant and although I knew that he was involved with a brass band, it wasn't until Ian, our younger son was offered the chance to play a brass instrument at school, that our lives changed. I had given up full- time teaching by this time, but immediately contacted Gerallt, or 'Gerald' as we called him, for advice. He brought a battered cornet over to us virtually the same afternoon, and taught Ian a few simple tunes. Within minutes 'Gerald' had Ian playing "When the Saints" and set him off on his musical career!
Scouts on a Friday evening prevented Ian joining the band, but a change of leadership caused him to leave, which fortunately coincided with a phone call from 'Gerald' checking on his progress. As he pointed out, there was one obvious place for him to spend his Friday evenings instead, so he joined the Junior Band. He soon moved into the main band as a 3rd cornet, which improved his sight reading immensely, and some years later he ended up playing Soprano cornet, before leaving to study music at Durham University.
My husband Les enjoyed taking Ian to band rehearsals and engagements, but had no recognisable musical ability, having given up playing the recorder when he was about 9 years old. He was somewhat surprised therefore when he was asked if he wanted to learn to play, and amazed me when he came home one Friday evening carrying a Baritone. Les doesn't like to be defeated, and has this belief that he can do anything if he puts his mind to it. Playing the Baritone and subsequently the Bb Bass has shown that determination is not the only ingredient to becoming a competent musician!
As Ian left for university, I decided to ask 'Gerald' if he could teach me the trombone. It was an instrument I'd always fancied playing, but in my youth there were few opportunities to learn a brass instrument, particularly as I lived on the south coast. I foolishly thought that as I played the piano and could read music, it would be relatively easy! Not so, but I have persevered and really felt I had achieved something when I first played at The Meadows one Christmas. I now look forward to playing at engagements, but didn't realise that sitting still and playing was a doddle compared to marching whilst playing, until we took part in the Whit Marches this year. That was a real achievement!
Jenny Thorn
2000s
2000
March – 5th Place in Regional competition
July – Concert with Hampshire county Youth Band and Talavera Junior School Choir
September – CD recording
December – 40th Anniversary celebrations at Lakeside
2001
January – Cheque for £1500 given to Frimley Park Hospital
November – Concert with Sundown Shadows Steel Band
2002
Gerallt Hughes received a medal from Surrey Heath in recognition of services to the borough and particularly in teaching music to youngsters free of charge
2003
Robert Cherry takes over as conductor from Gerallt Hughes
2004
October – Jenny Cherry presented with certificate for 50 years of banding by Ken Dennison at Folkstone Contest
2005
Concert with Abbey Junior School Choir
2006
Instruments donated to Mbake Youth Band in Uganda
2007
Welsh Echoes written to commemorate Gerallt Hughes 90th Birthday
2008
August – Plouzane Wind Band visits Camberley
2009
October – Robert Cherry won prize for best conductor at Folkstone Contest
November – Concert with Crosfields Chamber Choir
2010
May – Took part in Whit Marches
October – Won Best Bass section in Folkstone Contest
The Basses
Eb Bass – Bryan Walker
Joined the band in August 2008
How long have you been playing your instrument?
25/6 yrs
Do you play any other instruments?
Bb bass
What is your favourite piece of music?
Procession to the Minster / Gabriel's Oboe
Dire Straits Romeo & Juliet or Iron Maiden Run to the Hills
Which is your favourite brass band?
After CCCB, Grimethorpe
What piece of music would you like the band to play?
Procession to the Minster (once we can hold the volume)
Beth to play Gabriel's Oboe
Pines of Rome – just to baffle everyone
Malvern Suite – works well
Suite Gothique – work those pedal notes
Bb Bass – Les Thorn
Joined the band in July 2000
How long have you been playing your instrument?
Did you start on your current instrument?
8 years or so. I started with the baritone, playing the bass part, as it was easier to carry.
Which is your favourite brass band?
CCCB
Bb Bass – Ian Evans
Joined the band in 2007
How long have you been playing your instrument?
Did you start on your current instrument?
Prior to joining CCCB, I'd never tried a brass instrument so, I spent a few months on euphonium in the Training Band then went onto Bb bass. I have a lot to thank CCCB for because I tried to join other bands in the past and they've always been reluctant to try anyone who says they've never even blown a brass! At the end of the day though, if someone has musical ability and can read and understand music theory even a little, they should find it fairly easy to learn most instruments, albeit, it may take years to really master.
Do you play any other instruments?
Piano, electric six string and bass guitars, singer. I've spent most of my musical life performing in pop bands up until I joined CCCB, most notably a very brief period with Tubeway Army and more recently with tribute band The New Mud, as lead vocalist / front man, sharing billing with acts such as Alvin Stardust, The Krankies, Boney M (name dropper!). I've also made a couple of CDs / records.
What is your favourite piece of music?
Aces High is my favourite, closely followed by James Bond. I have no particular favourite piece of music, rather, I really rate material / arrangements performed by the Beatles and ABBA above just about anyone else I can think of.
Which is your favourite brass band?
My father was an accomplished organist. He played with the famous jazz musician Nat Gonella and with the Marines aboard the Royal Yacht when on tour, so I grew up to the sound of the Royal Marine band. That's my favourite 'brass' band.
Who is your musical inspiration?
I suppose it has to be my father.
What piece of music would you like the band to play?
I have a Royal Marines vinyl LP that my father played on and they do a seafaring medley on it. I'd love to have a bash at that, or one of the other fantastic rousing tunes from it.
WELSH ECHOES
In 2007 the band commissioned a piece of music to celebrate the bands founder conductor's 90th birthday. Below are Andrew Duncan's thoughts on the piece of music he wrote.
Welsh Echoes is a piece of music for brass band celebrating the enormous strength of melody found in Welsh traditional music. I wrote the piece in response to a commission from the Charles Church Camberley Band to celebrate the 90th birthday of it's founder, Gerallt Hughes, a Welshman who has taught and inspired generations of brass players (including my partner, Clair) and who was for many, many years the conductor and musical director of the band.
For Welsh Echoes I chose three traditional Welsh melodies – 'Bugeilio'r Gwenith Gwyn' (Watching the Wheat) 'Sospan Vach' (The Little Saucepan) and 'Dafydd y Garreg Wen' (David of the White Rock).
The piece opens with the characteristic rising arpeggio from 'Bugeilio'r Gwenith Gwyn' and develops the tune until there is a brief appearance of 'Sospan Vach' in the minor key which leads in turn to a return of the major home key bringing the opening section to a close.
The first tune to be fully presented in 'Sospan Vach'. To me this tune sounds quite Russian, so I had a little fun writing the tune a quasi Tchaikovsy setting. The title of the melody means 'Little Saucepan' and was a favourite with Welsh rugby fans in years gone past. Although the melody sounds very strong and determined, it is in fact a nonsense song. As part of the accompaniment in the percussion I couldn't resist including a part for two little saucepans.
A short bridge section recalling and developing elements from the 'Bugeilio'r Gwenith Gwyn' tune leads into the next melody, 'Dafydd y Garreg Wen'.
'Dafydd y Garreg Wen' has been a favourite melody of mine since I started playing as a child. The melody has both a great sense of dignity and nostalgia, which really made it very suitable for this commission.
A with a lot of traditional melodies, we are used to hearing them coupled with quite sentimental Victorian accompaniments, and I wanted to release the melody from this and instead dress it in a modal, Celtic setting. In my opinion this works well and allows the full expressiveness of the melody to come through. I scored this melody as a cornet solo as this was the instrument that Gerallt Hughes played, and he must have played this tune himself many times himself. I know from Clair that expression was something that Gerallt Hughes installed in his pupils.
The final section begins with a contrasting fast four note descending scale pattern (taken from a fragment the previous 'Dafydd y Garreg Wen') and as this develops once again the rising arpeggio from the opening 'Bugeilio'r Gwenith Gwyn' becomes more prevalent until a full playing of the melody is heard leading into a loud triumphant coda.
I would like to thank all those at Charles Church Camberley Band for this commission and to say from my point of view that it was an honour to write a piece for your inspirational founder. To my delight, the piece is proving quite popular and has been played by several bands now including Grimethorpe Band, and was recently recorded and broadcast on Radio 2 by the Brighouse and Rastrick Band.
Andrew Duncan
Finding CCCB
We were increasingly becoming aware of CCCB as they started to appear on the local park bandstand lists and we'd also seen them at the Meadows one Christmas. This indicated that CCCB was at a similar level to bands with which we were used to playing and that they are an active band. When we decided to look for a new band, CCCB seemed to be an obvious band to consider.
I checked the web for any further information about CCCB and found an excellent CCCB website that was up to date, helpful and gave an indication as to the "personality" of the band. Friday evening as a practice night was ideal and the band seemed to be the type of band that we were used to playing with. It was obviously a family band, even more so than bands we'd previously played with. The site indicated that it was a band that enjoyed a variety of jobs and events. It looked to be just what we were hoping to find.
I sent off an e-mail to Ken and he was very positive in his reply and, after checking with Robert, invited us to a practice. (After sending the message, I "Googled" my name, as I felt sure that Ken would too, and discovered that a horn player in the north of England playing with a first rate band shares my name. I was sorry to disappoint him when he realised that we were not one and the same!)
In short, we met the band through their general exposure, by playing around the area, and then the excellent website completed the picture.
Karen Pitts
My First Solo
At the ripe old age of 41 I never expected to actually achieve what was a childhood dream / nightmare.
When after three to four years of abstinence from brass banding due to degrees in mathematics, moving from North to South and new career prospects, I thought I had missed my chance to stand in front and play "my little heart out" solo for the audience. But even though my Championship playing days are temporarily on hold (whilst you guys get it together) and I am just coming into the prime of my life (in years, not health & wealth!), the day actually arrived for my dream to happen. I will remember for the rest of my life the moment when Robert asked me to stand and take the stage at Camberley Church in front of an eagerly awaiting audience (perhaps 30-40 people who had nothing better to do….. and my good lady!!). As I stood awaiting Robert's hand to fall on the first beat of "The Bombastic Bombardon" (my chosen piece), my mind became blank and panic set in. I understand now what people say about practise, as it was only due to knowing the rhythms of my finger movements that I was able to complete the first repeat strain. As the piece moved on, I became more at ease, although the moistness of my brow, back, hands, etc did not really portray this trend. Once I reached the refrain (start again), I had become over confident and even managed to "bob" a couple of times to the intro!! I then set-off again and got totally lost and once again relied on instinct until I found the coda. Once the solo cadenzas and duet with the Soprano had been suitable over-egged and rebounded around the rather "echoey" acous
tics of the modern church setting, I came to my stoic note…… a top G (solo pause at fortissimo!! Gulp!!), I got it, I held it and expected Robert to hold this for what would appear hours (as he had in the previous rehearsal!!), but as I glanced over to him, he moved the band on to the final strain. Finishing on my trademark "peddle" C below bottom C, I felt proud, disappointed, wet, hot, cold, numb and several other unmentionable sensations, stand to the what appeared heart-felt applause (and the more memorable to me… band applause and smiles/cheers)…. unfortunately I hadn't practised anything like bowing or waving, so may have appeared slightly under whelmed by the appreciation. But as Mr Evans will agree from his comment "shall we take you home in a bucket lad" (due to the now torrential sweat torrent falling from my brow upon regaining the safety of my seat), I was completely overwhelmed by fulfilling this dream…. which playing alongside Corries Basses at a massed band & following Grimethorpe Colliery onto stage at The Winter Gardens in Blackpool could never compare to.
I will always remember this moment (even if I wish to then forget the terrible start to "Come Follow the Band" which followed) with Charles Church Camberley Band forever… Thanks to you all… God Bless…
Bryan Walker
Whit Friday 2010
Well after twenty years of waiting the day finally arrived, the band's first trip to participate in the annual Whit Friday March contest in the Tameside and Saddleworth and Oldham districts. The plan to take part in seven contests. The weather during the week had not looked promising and the prospect of a very wet night looked quite likely. Luckily the gods were on our side and the weather was excellent, in the main part sunny if a little chilly towards the end of the evening.
The coach left the hotel at 3.15p
m and by 3.40pm we were at our first venue. Although the contest wasn't due to start until 4.30pm, amazingly there were already 2 bands in front of us. I have to be honest that when we arrived at the venue it was not quite what I was expecting. Rather than a charming village it was a football ground and a car park in the middle of town. Nevertheless it was a good starting venue and gave us an opportunity for a warm up in the car park before the contest got off to a start. Although there weren't many people there yet we received a warm welcome and good wishes for our first time at the contests.
On to Carbrook and this was more like it. A charming village on the edge of the moors and amazingly no bands waiting to play. We formed up and the villagers came out of their houses to see us march down the street. As we marched into the playing field where the contest was being held a near catastrophe occurred. A certain cornet player who shall remain nameless (ok I will name her, Ruth) almost collided with a steel bollard (very large fence post actually – Ed). Thankfully disaster was averted just in time and the band received a warm round of applause as we marched
in.
On to Friezland and only two bands waiting. All the marches had been very short so far including this one. Unfortunately this went uphill slightly and the band was a little tired after it, so we did not play as well as we might in the contest. It was now 5.45pm and we had completed three contests already. We arrived at Greenfield next to discover that 10 bands were already waiting, so we decided to miss it and maybe return later. We arrived at Uppermill and there were only about four bands in front of us. The difference here was that there were hundreds of people there watching. Warm applause was received as we march down the street on what is finally a slightly longer march.
On next to Dobcross where we finally bump in to one of the top bands, Stravanger. This was probably our longest wait of about half an hour, so finally a chance for some refreshment. At Dobcross we received our warmest reception and got a very big round of applause as we finished our contest march. You also received applause as you walked in to and out of the contest stage, a nice touch. It was also our best result of the night and we came 29th out of 62 bands. Having played just three bands after Stravanger who finished 7th, this is a fine achievement.
We only have one contest left on our plan now and it was only 8.00pm. So a last minute change of plan and we decided to head to Diggle. This is a very small village and the contest stage is in a field with the hills of the moors behind us, probably the best view I have ever had whilst conducting (even better than Folkestone). A very warm welcome received here as well and another excellent result, finishing 30th out of 55. This result is also notable in that we beat St Austell, a fine 1st section band which has previously competed in the championship section of the national finals at the Royal Albert Hall. We also beat a number of other bands in higher sections including Alder Valley!
So on to our final location, Delph, as featured in the film Brassed Off. Not too much of a queue, but there are thousands of people in the village. The street is packed and again the band is applauded as it marched down the street. We were really getting into our stride with marching now. We played Unity for the last time on the contest stage outside the band club where there were plenty of people watching and so our evening of playing was finished at about 9.15.
Just time
to get some more refreshment and soak up the atmosphere. A band from RNCM arrived calling themselves Disney Brass and the players were all dressed up as Disney Characters. They certainly got the crowd going as they marched down the street and they milked it for all it was worth, marching as slowly as possible. They received a fantastic reaction; excellent entertainment value and they got an entertainment prize elsewhere for their troubles. They must have been freezing though, because some of them had very little on and by this time the sun had long gone down. It set me thinking though and next time we go I think we will all dress up as stormtroopers and play the Imperial March from Star Wars.
So we managed seven contests in total, no major hiccups and a couple of good results as a bonus. I can honestly say that it was one of my best banding experiences ever and I just hope that it won't be another twenty years before we go again.
Robert Cherry
Percussion
Percussion – Elaine Fell
Joined the band in 1997
How long have you been playing your instrument?
Did you start on your current instrument?
Started on cornet then went onto percussion when Robert took over as Bandmaster
Do you play any other instruments?
Violin
What is your favourite piece of music?
I enjoy playing military marches in the band. My favourite piece of music to listen to is Eva Cassidy's version of "Somewhere over the Rainbow". I was listening to it over and over again when Ray was unconscious in hospital.
Which is your favourite brass band?
Camberley!
What piece of music would you like the band to play?
It has to be "Something in the Air Tonight" a Phil Collins number so that I could get to play the drum part. (Like the gorilla in the Cadbury's Dairy Milk ad)
Percussion – Rebecca Bartlett
Joined the band in January 2010
How long have you been playing your instrument?
I started playing drums when I was eight
What is your favourite piece of music?
When the Saints
Who is your musical inspiration?
My mum's friend Lee is a great kit player and I would like to be as good as him one day.
What piece of music would you like the band to play?
Is This the Way to Amarillo?
Percussion – Owen Lloyd
Isn't sure if he has joined……..he just seems to be there!!!
How long have you been playing your instrument?
Trumpet/Cornet since age 7
Do you play any other instruments?
Trombone and percussion
What is your favourite piece of music?
Music – John Miles
Gospel John or Easter Hymn from Mascagnis Cavalleria Rusticana
Which is your favourite brass band?
Grimethorpe of the University of Warwick
Who is your musical inspiration?
Maynard Ferguson
What piece of music would you like the band to play?
Ross Roy by Jacob de Haan
CONGRATUALATIONS
Congratulations to the Charles Church Camberley Band on the occasion of its fiftieth anniversary – a wonderful achievement! I hope you will continue to enjoy making music and good luck for the next fifty years and beyond!
Best wishes,
Philip Harper
Composer
Principal Conductor Leyland Band
Poems
Not only are the members of the band musicians but poets too!
Retiring Secretary of the Band, I think I'd better,
Say a few kind words to you in a letter.
Thank you for having me and now it's time,
To put pen to paper here in rhyme.
In the sixties it was, Mr. Hughes came and said,
'A fine Hon.Sec. you'd make, the job is yours Ted'.
Six weeks with a pen, but they weren't satisfied,
They put me on Bass, which I looked at with pride.
The family were amazed, All said ' Good Old Dad,
We'll teach you'. Gosh, the teaching I had!
I couldn't read music, Couldn't tell C# from D.,
What fingers to use? That still puzzles me!
My first contest at Hove, Oh what a day,
Raw beginner, new hon sec and boss asked em to play
I sat there on stage I blew and I blew
Not a note came out as far as I knew.
A prize we'd won, I had the shock of my life
Years afterwards, I confessed all this to my wife.
More practice had been needed, I look back with regret,
Ah! But the trip to Sucy I'll never forget.
Fetes, concerts, dances, walks and rides,
Marches, film, quartets, we took all in our stride
Quality fair and carolling – you've all shown the way,
Given unstinted support to what I had to say.
Registration of players, bandsmen, women, come and go
Some stay longer than others – very nice people to know.
Nice spirit in banding, good times to be had
Good friends, mates and family, to all I'm just 'dad'.
Enough said for now, I wish the band well.
More enthusiasm, more prizes – one never can tell?
I've enjoyed being Hon Sec words cannot measure
The joy of being with you, was always a pleasure.
Ted Beck
Secretary of Band 1960 – 1982
Band Practice – 1st April 1982
I sat down in the Bandroom to listen to the band
Everyone was read, the conductor raised his hand
But I'm afraid to say… some notes that were produced
Did little for poor Gerry – they seemed to turn him puce.
You'll have to do much better, I heard the Maestro say
For the Watney's competition's only three more days away
He coaxed the trombones, and the horns, and helped the cornets out
And just as they got going I heard poor Gerry shout ……
You'll have to get yourselves in tune, I keep on telling you
You'll have to try much harder, for this will never do
We've got to get the balance right, you'll only get one crack
And once you're on that stage, my friends, there'll be no looking back.
Hit those notes, and use those tongues, those Gs are out of tune
I'm not sure what my feelings were as I sat there in that room
I only know when Sunday comes, of one thing I'll be sure
The band will give their very best – now who could ask for more!
1982
The Hughes' got up early to set out for Brean Sands
This was the day that Camberley were to compete with other bands
They picked up Jim, the drummer, and they started on their way
Full of optimism – looking forward to the day.
Rona sitting in the back, her nose into her book
Gerry was listening to his tapes – and therefore failed to look
At the signs above the motorway – denoting the M5
He didn't even notice the road beginning to divide
On and on they travelled – until Gerry suddenly said
Isn't that the Severn Bridge that I see up ahead
I didn't think we came this way – John Roberts didn't say
That we had to cross the bridge on our travels out today.
He didn't say – BECAUSE WE DON'T – 'twas Rona's voice he heard
You've missed the M5 junction – need I say another word!
The atmosphere electric – they sped across the river
Turned around and shot straight back – like an arrow from a quiver
Time was of the essence, no way could they be late
They couldn't let the band down on this very special date
Although they did arrive on time – to Gerry I must say
'You owe your dear wife, Rona, 40p for tolls that day'.
Shirley Bailey
Mother of David Bailey – 2nd cornet
Happy 50th anniversary, Charles Church Camberley Band!
This is the right chance to tell a little story. People say, music has the power to unite people and to overcome boundaries. The Charles Church Camberley Band is a great example for that.
In 1984 the Charles Church Camberley Band planned an exchange with the Accordion Orchestra of Bietigheim-Bissingen. For that reason a group of delegates came to Germany: the conductor, Gerallt Hughes, daughter Jennifer and her husband Michael Cherry and another member John Warner and his wife Jean.
Jean and John came to my family. I know, that at first my father and John had concerns what the other would think about them, because both were in the war. But as soon as they got to know each other all concerns were forgotten, even though my father couldn't speak a word English nor John could speak German. It became a friendship of a lifetime. John even learned German, to be able to talk to my Dad and he came each year at least once to see us. He was also there, when my father had a stroke. The friendship lasted till Jean and John died a few years ago.
In 1988 the Accordion Orchestra made a return visit to England. My family and I could accompany my brother, who played in the orchestra, as we already had people to stay with. My Mum and Jennifer Cherry found out, that their two daughters were the same age, just 4 days apart. So they decided to seat them next to each other on the coach on an excursion and that they had to share lunch too. Ruth and I didn't part that day and since then we have been friends. This is a friendship that has existed for more than 20 years, even though we live a "few" miles apart. In the Cherry-family and now in Ruth's family, I always felt at home, as a member of the family, not as a guest. I even have the honour to be godmother to Ruth's two children.
So I want to say thank you for one of the greatest gifts in my and my parents life: the friendship to all the people mentioned above.
Annette Gottschick
CONGRATULATIONS
It gives me great pleasure to send my congratulations to the Charles Church Camberley Band, in this, its 50th anniversary year. The band seems to epitomise all that is good about brass banding, strong family connections , dedication and commitment for successful brass banding in general. I send my best wishes to all past and present members of the band and for continuing success and happy banding in the future.
David Read MBE
Three time Champion cornet player of Great Britain
FOLKESTONE NEWS
(MUSIC SUPPLEMENT 16TH OCTOBER 2010)
CHARLES CHURCH CAMBERLEY BAND BASS PLAYERS STORM AWAY WITH PRESTIGEOUS TROPHY!.
Our reporter Johnny Riff attended the Southern Banding Contest at the Lees venue in Folkestone today. Here's what he had to say about the event.
There was a fabulous array of bands taking part, one of which was the world renowned Charles Church Camberley Band, who gave a truly inspiring and uplifting rendition of the Saddleworth Suite. Hobbet Sherry (48), the bands Musical Director and chief stick waver commented before the contest "My hopes for a comfortable and convincing win are high this year!". Alas, it was not to be. Despite their fabulous musical arrangement, the band's hopes were dashed when some other band got lucky and was awarded the top accolade. But despair turned to unabated joy as the CCC Band's spirits were raised high once again when their triumphant 'stylish' bass section romped home with the much coveted ROY WHITTEN MEMORIAL TROPHY. "Gosh, I'm so lucky to have such stylish, musically gifted guys at the business end of the band" commented Hobbet.
The 'stylish' bassist fellows didn't hang around for photos and autographs after their 'turn', so I caught up with the modest trio, Bryan 'Road Digger' Walker (27), Les 'Dangerous' Thorn (31), and Ian 'Fabulosa' Evans (28) back at Fabulosa Towers, Ian's modest stately home, 'somewhere' in Surrey. Here's what they had to say………
BRYAN: "Aay oop lad, it were reet good. Ian and Les were a couple o shandy drinkin soothern lads who could hardly play a note when I first joined CCCB but after a few tips from me, they've coom on leeeps and bounds and when I play wrong notes, I blame them and no one knows owt diffrent. There were never any doubt in ma mind that we'd pick oop the award.
LES: Yep, that's right. There's no denying, I've become a bit of a phenomenon and it's all thanks to the Eb supremo Bryan 'Road Digger' and his 'pedalling' tip. I just wish I could understand his nancy northern accent. Still, you can't take it away from the guy, when it comes to playing bass, he makes a noise more powerful than any 'road digger'. I've seen birds fall at his feet once he gets his wind up.
IAN: What more can I add except, to thank the rest of the CCC Band for supporting us because, without them, Me Les and Bry. would've have had to work just a bit harder for the coveted trophy. I think my performance this year was improved by the fact that I didn't have to drive the mighty CCCB mirth mobile to the contest. Certain members of the band had to change their underwear after the journey down last year and I think it sort of put them off a bit. Which leads me on to mention Andrew Hawkins who kindly chauffeured me to and from in his Mercedes, thus allowing me the opportunity to catch up on some much needed (arguably) beauty sleep. Sorry about the snoring, Andrew, hope it didn't keep you awake. If any of the band want to come and view the 'Trophy', it'll be available between 6 and 8 pm Mondays and Wednesdays but, please bring your own gloves and sun glasses, or you won't be allowed to hold it and I won't accept responsibility for any loss of sight sustained from glancing at the highly polished silver surface.
I'd like to thank the 'stylish' trio for speaking to me and I look forward to covering their future 'stylish' triumphs.
Johnny R.
Stop press : The Editor would like to apologise to Robert Cherry for getting his name wrong.
THE BAND'S SENSE OF HUMOUR????????
The following Meet the Band was sent to me – does it ring any bells?!?!
NAME: Robert Cherry
When did you join the band?
At birth
How long have you been playing your instrument?
The Baton? – Ages. Still can't get a decent sound out of it!
Do you play any other instruments?
Yes, but no brass instruments – I really admire brass players for their skill and musicianship, especially in this band
What is your favourite piece of music
Always on my mind
Which is your favourite brass band?
Charles Church Camberley Band
Who is your musical inspiration?
Animal (In the Muppets!!)
What piece of music would you like the band to play?
Anything in the black folder for starters!!
CONGRATULATIONS
Nice to hear a band making it to 50 years! In this day it's a real achievement. "Congratulations on your first 50 anniversary. I hope the band continues making wonderful music for the next 50 years. Keep up the good work. Next time I pass through, I will pop in and check to see how you're going. Best wishes to all !!
Best regards,
Russell Gray
Conductor, Fairey (Geneva) Band
With fifty years clocked up what will the next fifty years bring? Will any of the current members still be playing in the band? Will the uniform or name have been changed? What innovation will have taken place in the making of brass instruments?
One thing that is sure is that the friendliness of the band and it's music making will continue for many, many years. I hope that future members of the band will have as much fun as myself and the rest of the band has had over our time of being part of a special group.
HERE'S TO THE NEXT FIFTY YEARS!
Compiled by Ruth Adams
2010